T-Box-Plus_For Android 12_138_update
Historical Version
Historical version firmware, at the bottom of the page
The firmware on this page, only works for TBox plus with Android 12 and the version is: 138. Please make sure your Tbox plus conforms to these two rules before downloading the firmware upgrade. If your Tbox plus is Android 11, it is forbidden to use this firmware, which will make the Tbox plus for Android 11 not work.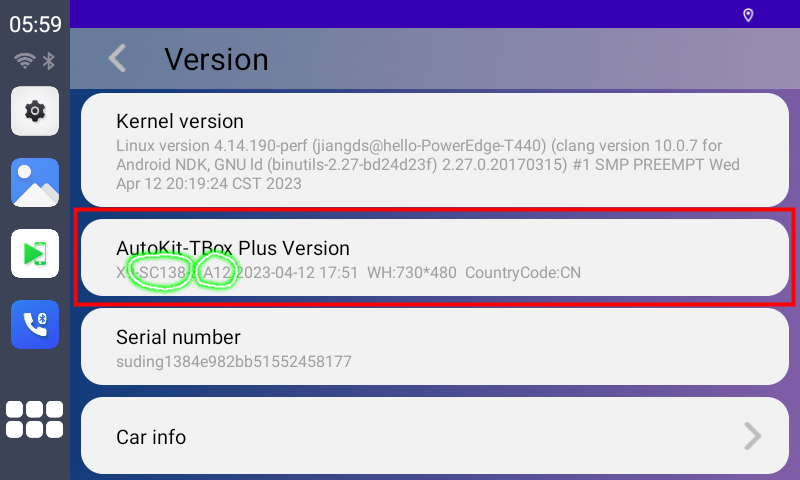 Android version & 138 Version view
Settings - Version - Autokit-TBox Plus Version - X9-SC138-8 A12 2023-04-12 17:51
Don't choose the wrong firmware!
Steps to upgrade TBox plus.
1, Unzip this firmware file and copy the "update.zip" file to the root directory of the micro SD.
2, Update.zip, This file does not need to be Unzip..
3, Insert the micro SD into the product, the system will automatically prompt whether to update, click update, the box will automatically enter the upgrade state (warm tips: the upgrade time lasts 5 minutes, do not unplug the box in the middle);.
4. After the upgrade is complete, the product will reboot
Update Log
Firmware version: 2023-04-08-08-20
1, Fix wifi mac address
2, fix shahid apk can't use problem
3, repair vertical screen time more n problem
4, Fix the problem that BYD is not fully displayed
5, Add support for Fordranger host to display music information
6, Fix the problem of touch offset of Vietnam map
7, Shield dark color mode
8, Fix the black screen problem of starting navigation pendant of Gaode map
9, Fix the problem of no phone app in domestic version of software
10, Optimize android auto connection
11, Update Netflix to the latest version
12, Repair the problem of black screen of Vietnam map S2 split screen
13, Fix the problem of incomplete display of Ford f150
14, Solve the problem that some machines can not burn records
15, Repair the problem that Bluetooth keeps prompting when there is no address book contact
16, Repair the problem of incomplete display of IGO
17, Repair the problem that Vietnam map S1 cannot be used
18, Fix the problem that the native Bluetooth can't use left and right direction keys for matching
Firmware version: 2023-02-01
1, Fix the problem of slow start-up speed
2, Fix the problem of error reporting under the third-party desktop with its own desktop
3, Fix the problem of probable restart of Volvo connection
4, Fix the Nissan Tiida connection black screen problem
5, Solve the black screen problem of Toyota Step Wagon SP8 connection and Chery Ruihu 8 connection
6, Add automatically appear to restore factory settings, log copy mechanism
7, fix the optimization of Bluetooth phone query, fix the landline number can not find the name problem
8, solve the Toyota Elfa reverse black screen problem
9, solve the desktop in the click on the music up and down the song appears yellow box problem
10, solve the BYD connection problem
11, Solve the problem of no sound in some players
12, Optimize Volvo and Audi S3 connection
Historical firmware links
Under normal use, repeated upgrades/rollbacks are not recommended
Subscribe
Get the latest news from Carlinkit
---