Tbox_Plus_138_For Android 12_OTA
Historical Version
Sorry, users who have already downloaded 06.21 firmware need to use Micro SD card again and upgrade 06.30 to get OTA function.
From version 20230630, TBox plus supports FOTA online firmware upgrade, no need to use Micro SD card anymore, you can download and upgrade firmware in Android system, OTA upgrade only consumes a small amount of network traffic (tens of MB).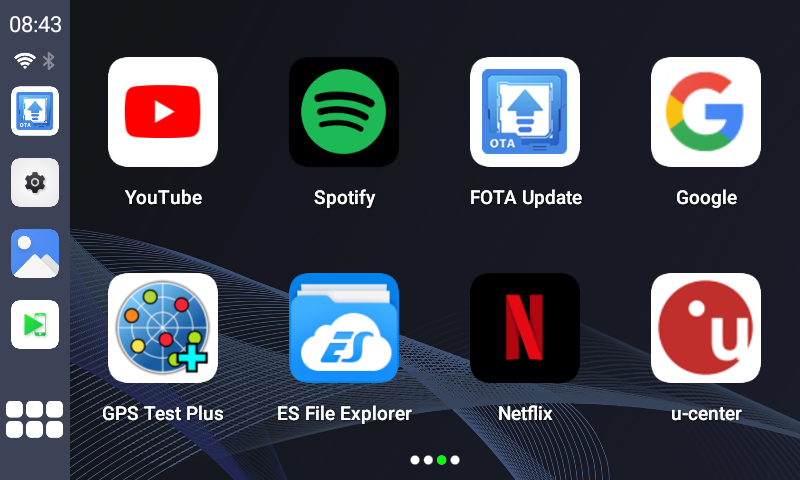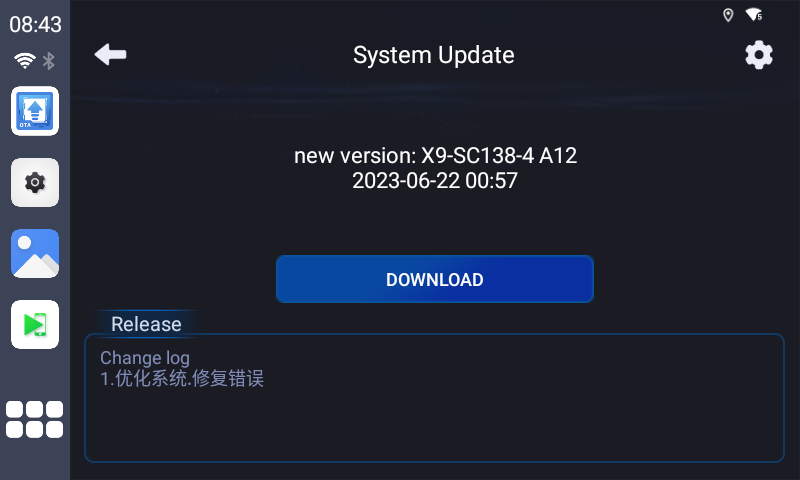 Historical version firmware, at the bottom of the page
The firmware on this page, only works for TBox plus with Android 12 and the version is: 138. Please make sure your Tbox plus conforms to these two rules before downloading the firmware upgrade. If your Tbox plus is Android 11, it is forbidden to use this firmware, which will make the Tbox plus for Android 11 not work.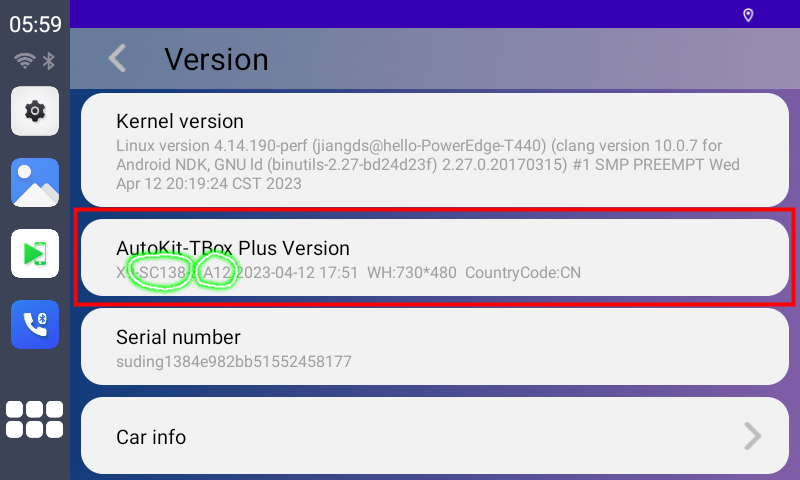 Android version & 138 Version view
Settings - Version - Autokit-TBox Plus Version - X9-SC138-8 A12 2023-04-12 17:51
Don't choose the wrong firmware!
Steps to upgrade TBox plus.
1, Please rename the downloaded file to: update and copy it to the root directory of your micro SD card.
2, Update.zip, This file does not need to be Unzip..
3, Insert the micro SD into the product, the system will automatically prompt whether to update, click update, the box will automatically enter the upgrade state (warm tips: the upgrade time lasts 5 minutes, do not unplug the box in the middle);.
4. After the upgrade is complete, the product will reboot
Update Log
2023.05.04
1、Resolve the repeated opening of hotspot three times mechanism does not take effect bug
2、Update youtube; add support to allow application notification switch in factory profile
3、Optimize audio logic; optimize connection for Buick Grand Prix
4、Solve the problem of starting Google voice causing original car sound; fix the problem of wifi prompting network can not access the Internet but actually can use
5、Fix some app play sound problem; fix Hyundai Aria connection problem, Ford full screen problem, optimize link
6、Fix the problem of no sound when iqiyi is played and retired to the background into picture-in-picture mode
7、Tidy up the settings app Ui architecture
8, remove the settings of the day and night mode, only for positive use
9、Solve the problem of multi-tasking when the hover ball split screen is not available
10、Solve the sound problem caused by the wakeup-free function of some navigation apps
11、Solve the vertical screen up and down when splitting the screen, netflix not full screen problem
12、Add Hebrew language support to the settings
13、Solve location voice bug; optimize gps signal; solve the problem of Android Auto playing navigation sound
14、Optimize apk installer experience
15、Solve ford ranger model problems; solve the problem of Desai host connection
16、Optimize the navigation pendant to load the amap problem
17、Fix the problem of long press status bar error report
Historical firmware links
Under normal use, repeated upgrades/rollbacks are not recommended
Subscribe
Get the latest news from Carlinkit
---